Investing in content marketing is one of the best ways to help your business grow. 
As most people know, high-quality content can help raise brand and product awareness — especially in the early stages of the buyer's journey. But, business owners often forget that well-produced blog posts, videos, podcasts, etc., can also function in the lower phases of the sales funnel. They can help consumers make better purchase decisions. Convince them to try your solutions. And they can even encourage customer loyalty.
And here's the deal. The best way to improve your content marketing ROI is to use visuals. After all, 90% of the data processed by the brain is visual. Humans can identify images in as little as 13 milliseconds. Research shows that the brain processes images 60,000 times faster than text.
So, if you're ready to embrace the power of visuals, here are the top ways they can help boost your content marketing efforts.
Aid Brand Recognition and Recall
One of the best ways to include visuals in your content marketing strategy is to use them to boost brand awareness, recognition, and recall.
According to a 2020 study, 50% of consumers say they're more likely to use a company whose logo they recognize, while as many as 60% avoid brands with unattractive logos. Even more, the same study found that 85% of consumers stay loyal to businesses whose logos they like. That's how influential your brand's visual identity is in helping you win business.
But how do you apply this knowledge to your content marketing efforts?
Well, it's simple. By being consistent with the type of visuals you use, you can help your audience form expectations regarding what they want to see from your business, aid brand recognition, and improve recall. For a great example, check out how Kwara always uses real photos of satisfied clients on its Blog page. 
Moreover, employing this tactic can even help your brand become a household name.
Source: kwara.com
Inspire Emotional Connections
Most people — 95%, to be precise — make purchasing decisions based on emotions, not rational factors. 
So, to guarantee that your content marketing efforts deliver results, you should do your best to create emotional connections between your audience and your brand.
Visuals can be an excellent way to accomplish this goal. Just think of Coca-Cola's nostalgia-inspiring Christmas ads that always manage to position the brand's product as a way for consumers to share a feeling of closeness with their loved ones during the holidays.
Source: youtube.com
But in addition to using visual content to encourage your audience to feel connected to your brand, you can also invest in graphic content formats to inspire aspirational or impulse purchases based on emotions.
For instance, by identifying your target audience's wants and aspirations, you can easily use images to present your products in a way that highlights your solution's role in helping customers get what they want. Just check out how well Going understands its audience's wanderlust and yearning for adventure and how it employs superbly chosen images on its Cheap Flights page to inspire them to act on these feelings.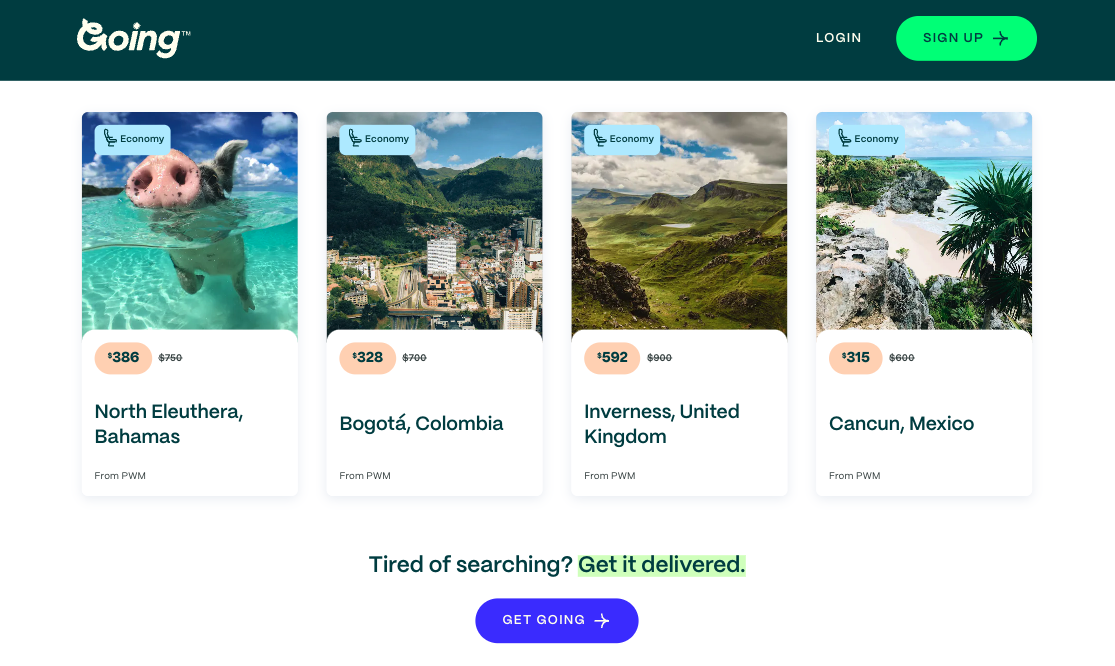 Source: going.com
Or, if you're not afraid to do something unexpected, you can accomplish a similar result by utilizing visuals that remind your prospects of their fears. For instance, Orbit does an excellent job of using visual content to depict a situation it knows its prospects never wish to experience.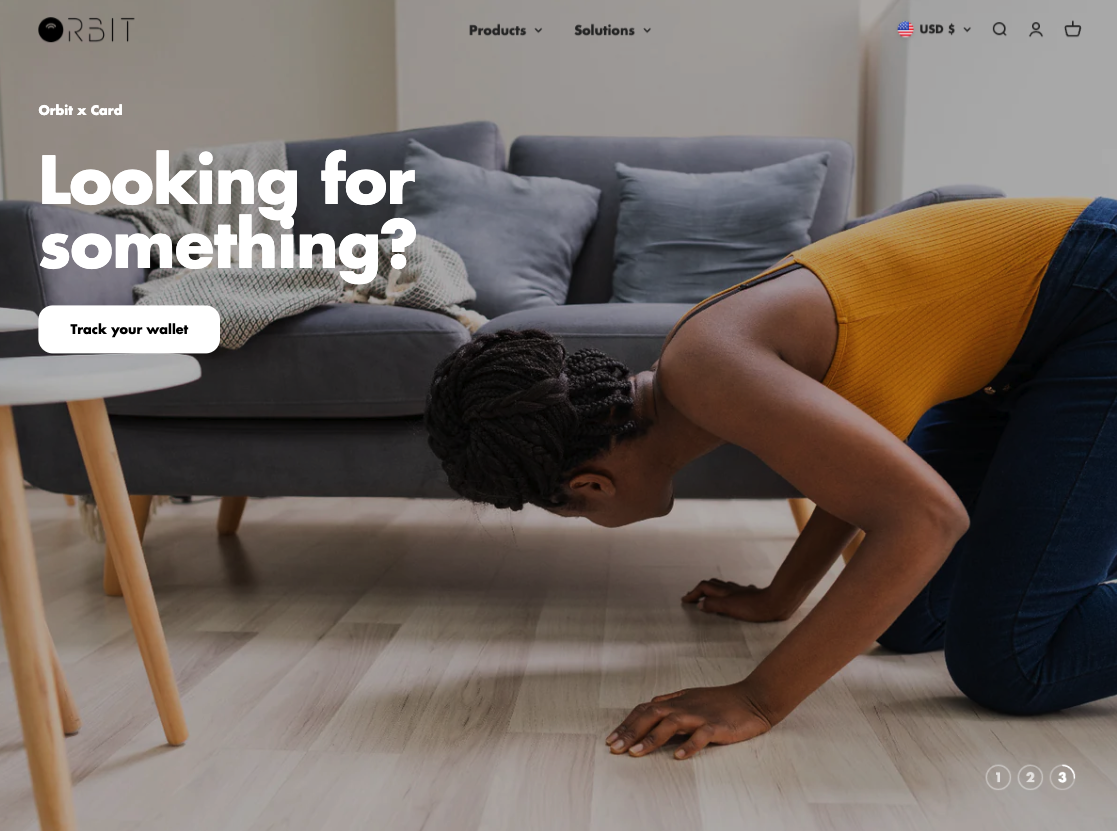 Source: findorbit.com
Make Your Content More Authentic
Did you know that 75% of consumers know when they're being advertised to? In its State of UGC 2023 Annual Report, TINT revealed that user-generated content ranks highest in terms of authenticity. This shows just how effectively you can boost your content marketing efforts by employing user-submitted images and videos in your strategies.
For instance, something as simple as reposting UGC on your social media accounts can help you present your audience with genuine representations of your products. This is precisely what Nigerian brand Fruché does on Instagram, where a good portion of its feed consists of user-submitted images that show the brand's clothes in real-world situations worn by real people.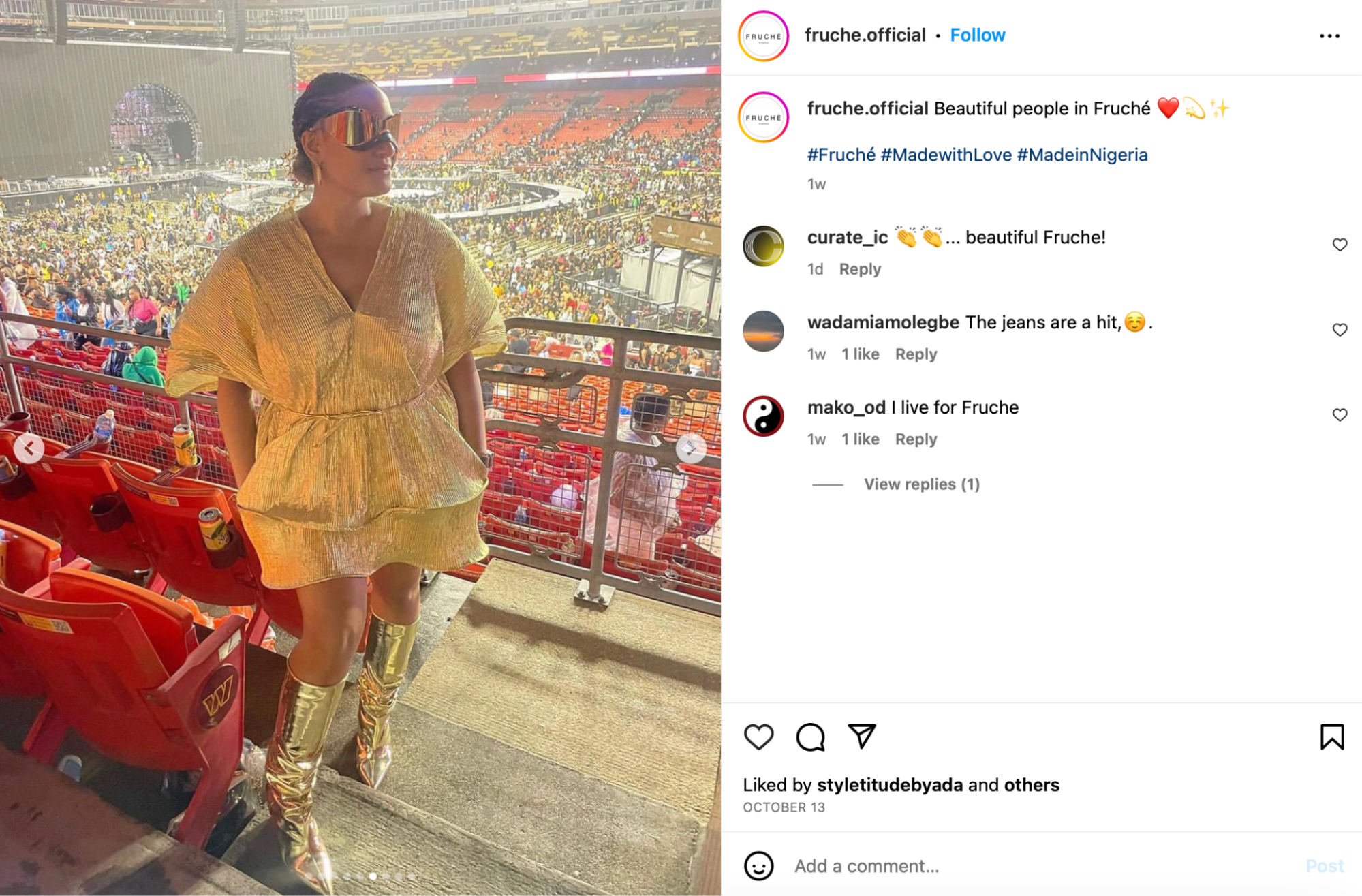 Source: instagram.com
Or, if you want to use visual content in a way that will support your claims, do something similar to FOCL. On its CBD for Sleep product collection page, FOCL includes a compilation of user-submitted videos by happy customers pointing out the role of the brand's supplements in allowing them to get better quality sleep.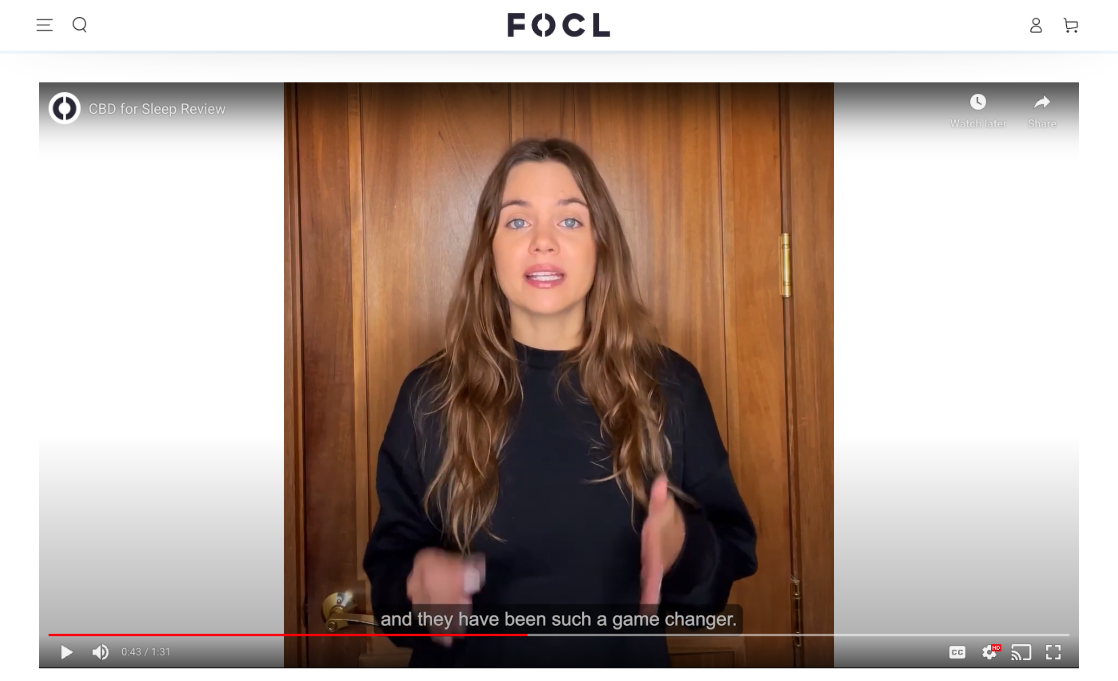 Source: focl.com
Increase Brand Trust and Credibility
Sometimes, the best way to use visuals in your content marketing efforts is to do so in a way that will boost your brand's credibility and trustworthiness.
If you examine how consumers choose what brands to support, you'll discover that trust plays a major role in influencing their decisions. 
According to research from Adobe, 7 out of 10 consumers base their buying behavior on trust, so it's not a bad idea to explore ways to use trust-inspiring elements on your website and content pages. They don't necessarily have to be images. However, they do have to have a strong visual effect, like the attention-grabbing purple font on the M-Shule homepage below.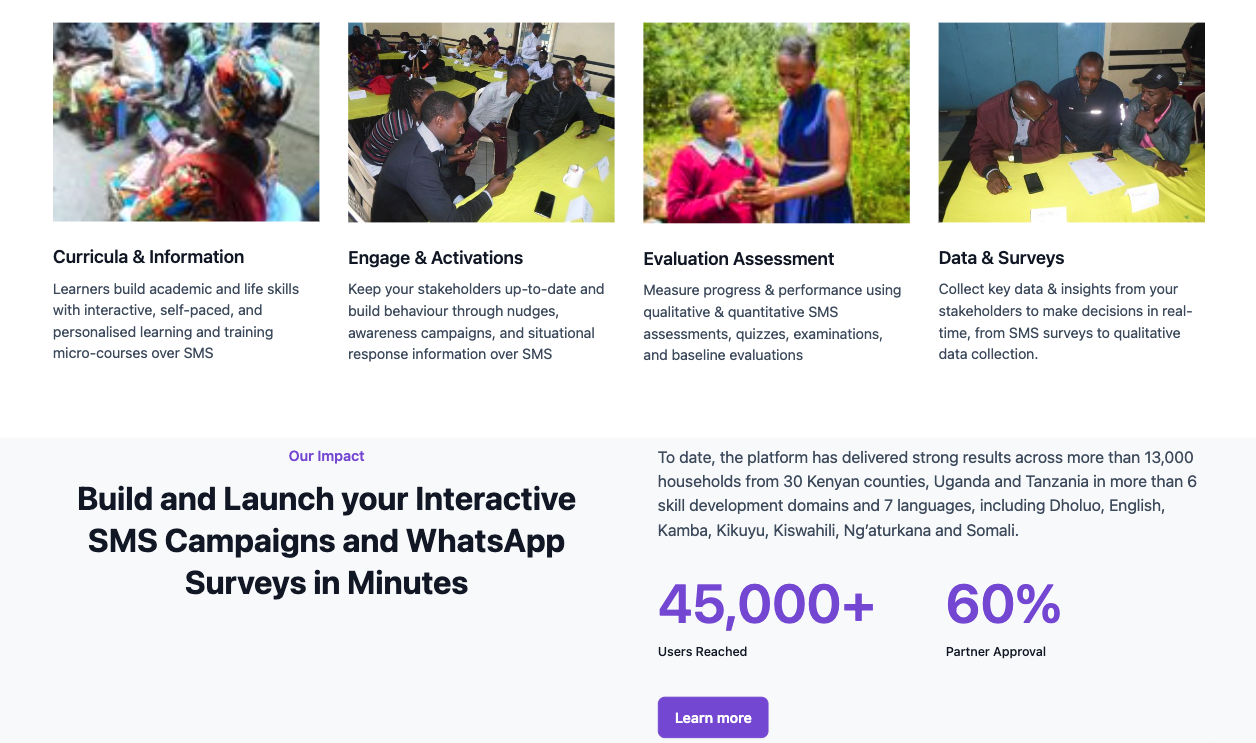 Source: mshule.com
As for some more advanced visual elements, check out the Transparent Labs LJ100 Tongkat Ali product page. You'll notice it includes several credibility-boosting badges testifying to the supplement's safety, benefits, and science-backed benefits.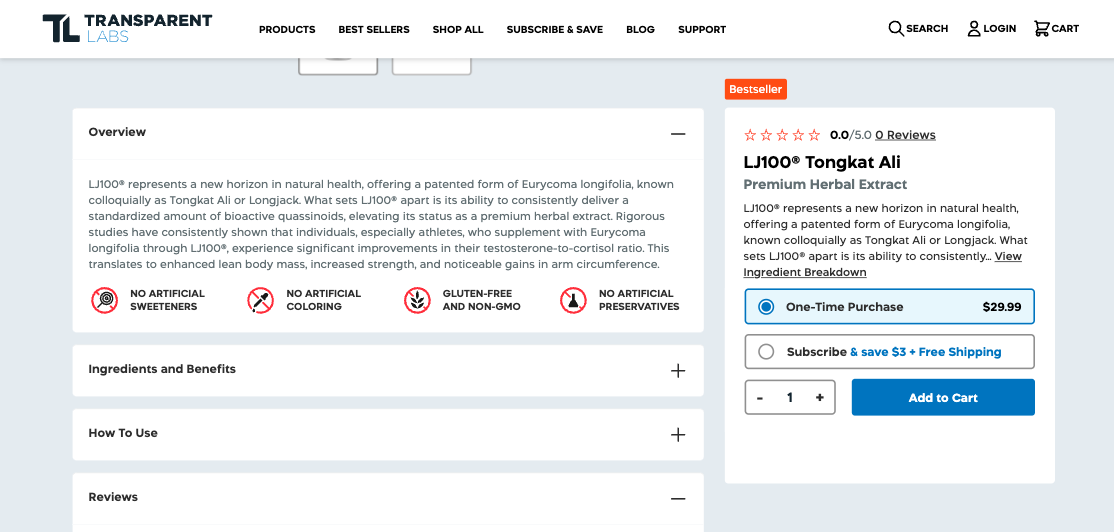 Source: transparentlabs.com
Or, if your primary goal is to use written content to prove your brand's authority and expertise, you might want to do something similar to Apollo. On its Studies Roundup page, this brand uses easy-to-understand illustrations to depict scientifically proven results obtained while testing its HRV-training wearable device.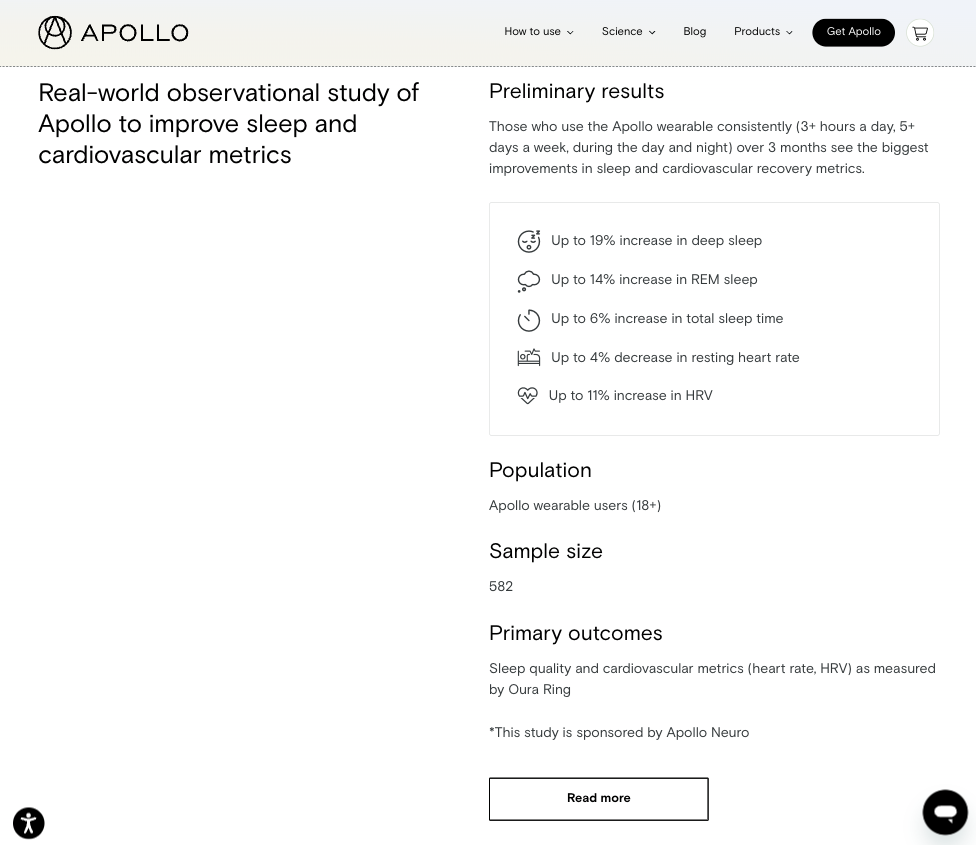 Source: apolloneuro.com
Communicate Complex Messages
When it comes to the role of visuals in helping you obtain better marketing results, it's essential to point out that they can be a superb tool for promoting product/service understanding.
We've already mentioned that people process images 60k times faster than words, making them a logical content format for businesses to use when trying to promote complex solutions — as Aura does on its homepage using screenshots to support its claims.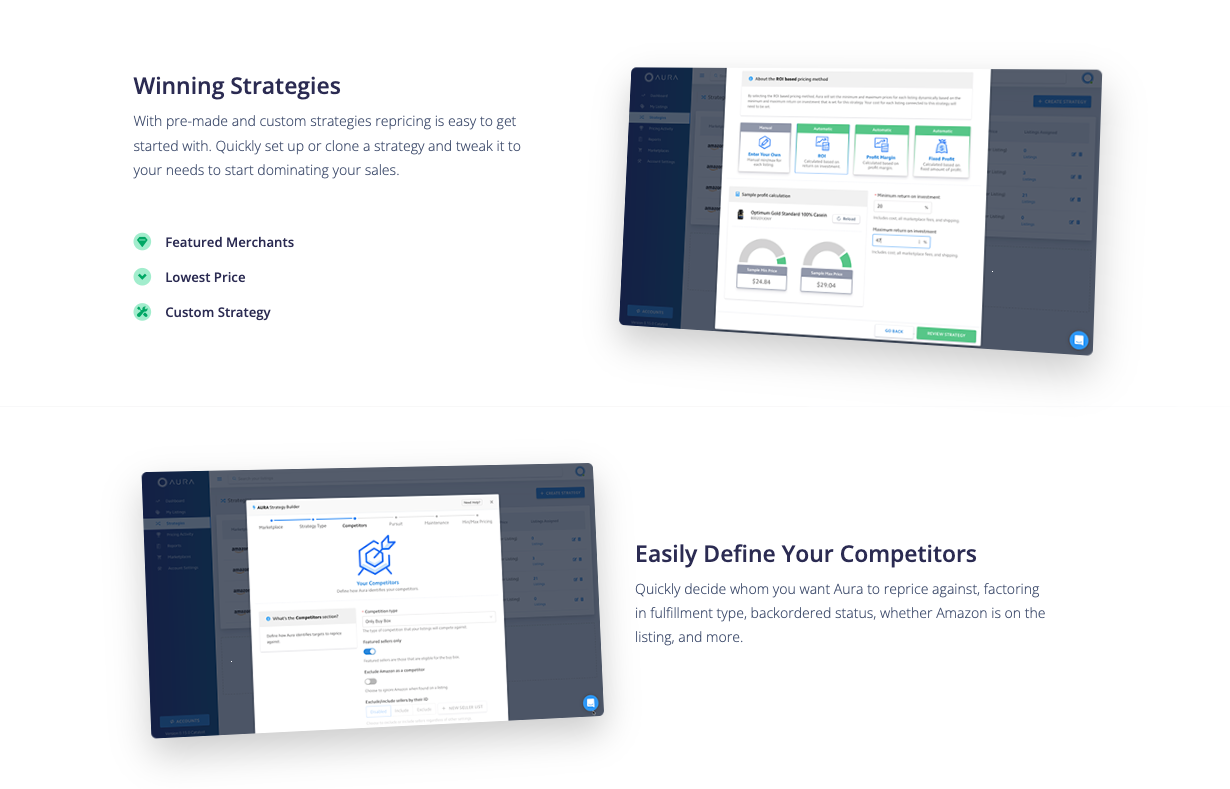 Source: goaura.com
However, if you want to take things to the next level and exponentially boost your marketing ROI by utilizing visual formats, employ video content.
According to the latest research by Wyzowl, video promotes product understanding for 96% of end users. It has convinced 89% of consumers to invest in a product or service. And 91% of people want to see more online video content from brands in 2023.
With this in mind, it's not a bad idea to start employing videos to communicate complex messages — or simply make your content easier to consume.
For an excellent example of this strategy in action, check out the Notion blog. You'll find that articles, such as the Where Does Notion Fit Into Your Company's Tool Ecosystem guide, use a combination of text, images/screenshots, and video to create the ideal learning environment for the brand's prospects. 
By allowing readers to acquire valuable knowledge through consuming a variety of content formats, Notion maximizes the effectiveness of its content in driving product understanding. Plus, knowing that multi-dimensional learning aids information retention, the brand also ensures that the value of these resources stays with its audience long after they've closed their browser window.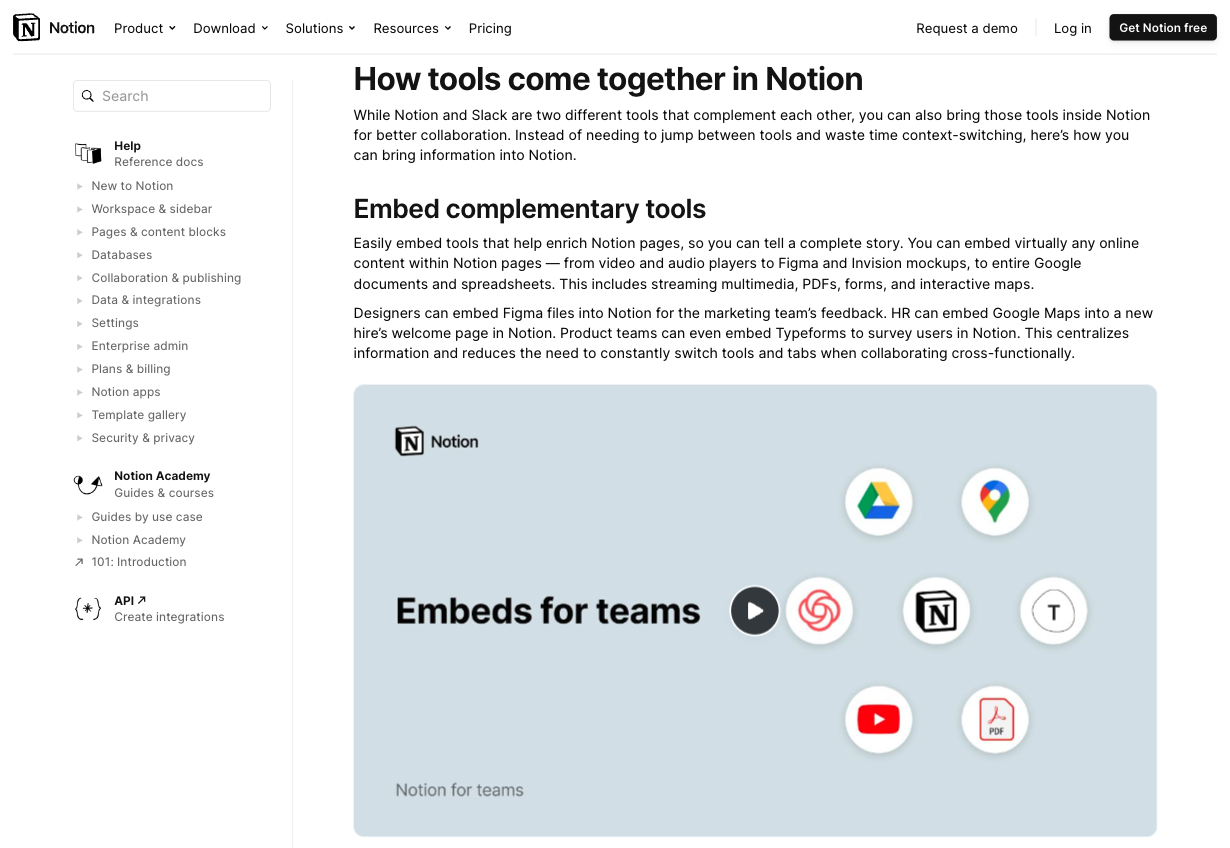 Source: notion.com
Maximize Reach
Finally, to boost your content marketing efforts, don't forget that visuals can have a major effect on your reach.
According to Jeff Bullas, articles with images get 94% more views. Moreover, tweets with images get 150% more retweets, making it that much more important to choose stunning header pictures for your articles if you plan on distributing them through social media. 
It's also worth mentioning that visual content tends to maximize engagement. That explains why carousel and video Instagram posts outperform their alternatives. It's also why success-oriented startups like Leta always make sure to supplement written social media content with engaging visuals.
Source: linkedin.com
With this in mind, remember that enhancing your content marketing efforts with images, illustrations, videos, or visual data depictions — especially if you invest the most in blogs — plays a huge role in getting your audience to interact with and share these posts. 
And if you're worried about the strain on your budget with adding visuals to your production line, consider this: every original visual you create is a valuable resource for your organization. So don't be afraid to repost it from time to time, transform it from one format into another, and use it throughout your website to maximize its effectiveness.
Final Thoughts
Enhancing your content marketing efforts with visuals is not a strategy you should only use to help your brand stand out. 
But if you're after impressive marketing results in a digital world dominated by images and videos, using visuals is an absolute must.
So, don't be afraid to invest in a variety of visual formats. If your budget is limited, you can start small by using screenshots, AI-generated illustrations, or even recording behind-the-scenes videos on your smartphone. 
Remember, the more you start incorporating visuals in your content marketing efforts, the more engaging and accessible your posts will become. Ultimately, that's what you should be aiming for with your content marketing efforts.