Despite numerous changes in consumer behavior — making it significantly more challenging for brands to reach, engage, and convert their target audiences — content marketing still reigns supreme in terms of ROI.
In fact, according to the State of Content Report 2023 by Bynder, as many as 86% of marketers plan on increasing their content budgets in 2023. This stat alone shows how worthwhile it is for brands to focus their marketing efforts on producing and distributing high-quality content.
But the simple fact is that not all content formats perform equally well. So, if you want to get the biggest bang for your buck, these are the most effective types of content you need in your marketing strategy.
Short-Form Video
If there's only one format you will adopt in 2023, it has got to be short-form video.
Research shows that video content that doesn't exceed the 2-minute mark offers the highest ROI, it's consumers' favorite method of learning about products and services, and it performs better than any other format on social platforms, with Instagram Reels boasting an astonishing average reach rate of 30.81%.
So, if you want to maximize social media performance or invest your hard-earned money into content formats guaranteed to capture your audience's attention, do it with short-form video. 
It doesn't have to be over-produced or even have that sought-after virality factory everyone is after. All it needs to do is present your followers with genuine value, entertainment, or inspiration — like the video on the Studio18 Instagram feed below.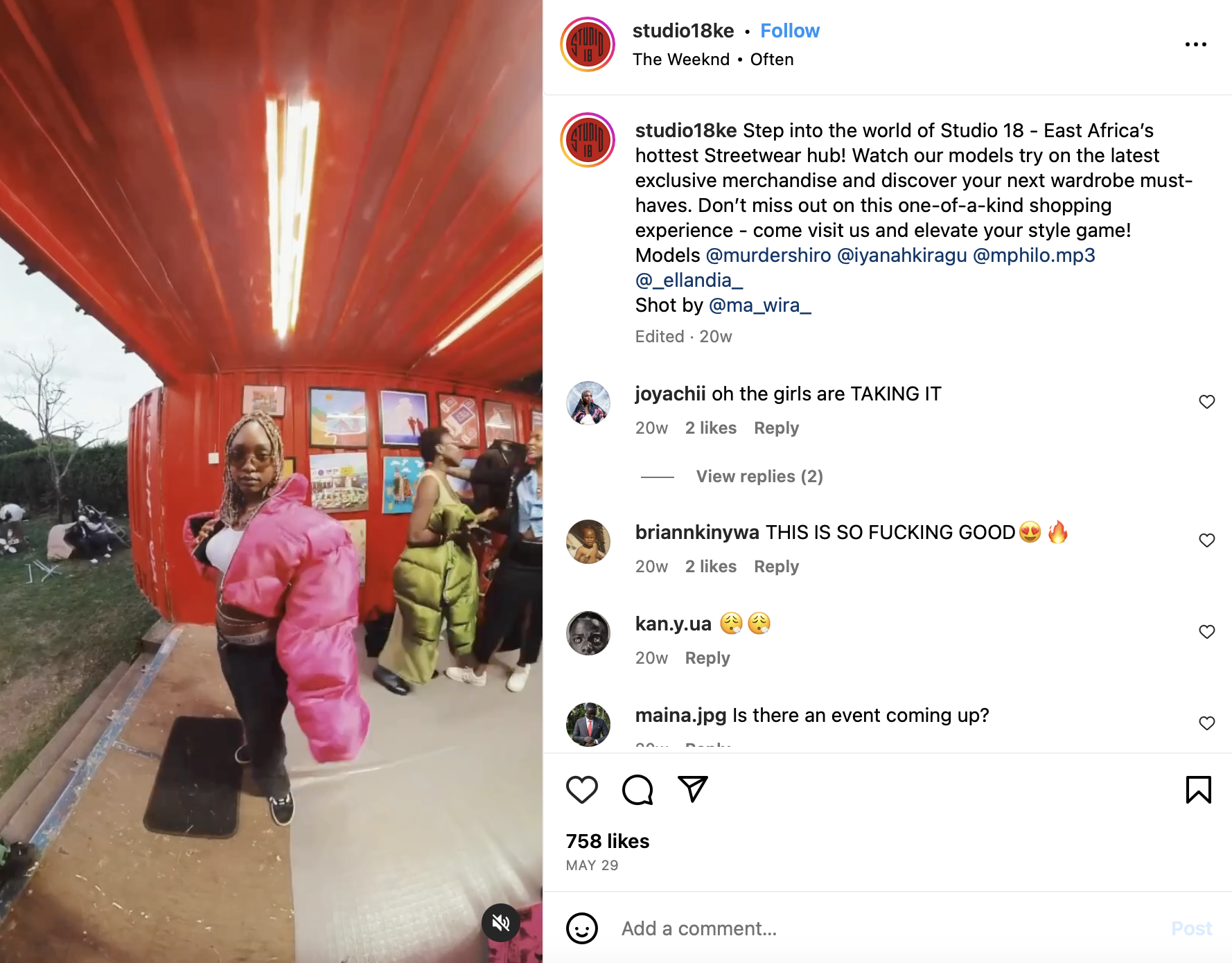 Source: instagram.com
Long-Form Written Content
If you're working with a limited marketing budget, your go-to format for wowing your audience may be written content. After all, you've got the industry expertise and experience to produce high-quality articles that have a real shot at helping your prospects solve their pain points.
But while regular blogs do a great job of generating organic traffic and positioning your brand as a credible entity, you might want to shift your focus to creating more in-depth resources for your audience.
According to Backlinko, long-form articles don't just rank higher (with the average Google first page result being 1,447 words long). They also generate more backlinks and social shares, showing just how much potential they can have for maximizing your brand's reach.
With this in mind, consider ways to enrich your marketing strategy with well-written long-form articles. 
For instance, posts including the phrases: Everything you need to know, Comparison, Top + Number, Guide, How to, Mistakes to Avoid, etc. generate more traffic. So, to get the most out of your marketing efforts, invest in in-depth written content. For a great example, take a look at how Eachnight did it with its 11 Best Mattresses Without Fiberglass: A Buyer's Guide.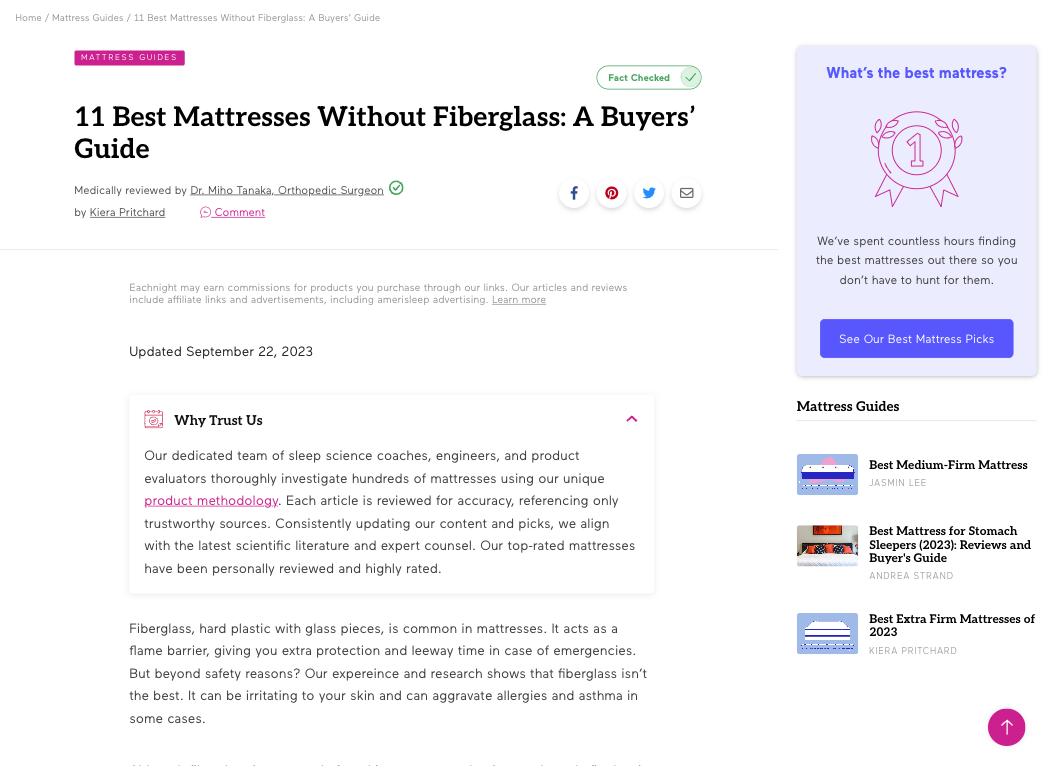 Source: eachnight.com
Detail-Driven Videos and Podcasts
One of the primary reasons long-form articles work so well in helping you reach your marketing goals is that they allow a large enough canvas to cover any topic in-depth with lots of attention to detail.
So, knowing that consumers value informative, well-researched, in-depth content, consider applying these attributes to formats other than blog posts.
It's also worth knowing that videos and podcasts generate much higher engagement rates than written content — with the number of podcast listeners worldwide having reached 464.7 million in 2023. So, do your best to use these formats to present your audience with new and useful information they wouldn't have had access to otherwise.
For example, knowing that their audience want easy-to consume content about running a construction business in Kenya, the team behind Café Construct chose to present their content in podcast format. The result of this choice is not just that the content is more engaging than traditional blog posts. But more importantly, the women running this brand understand that the podcast format allows them to deliver a lot of details and insights, while retaining a high level of authenticity that would probably become lost had they chosen to invest in just blog posts.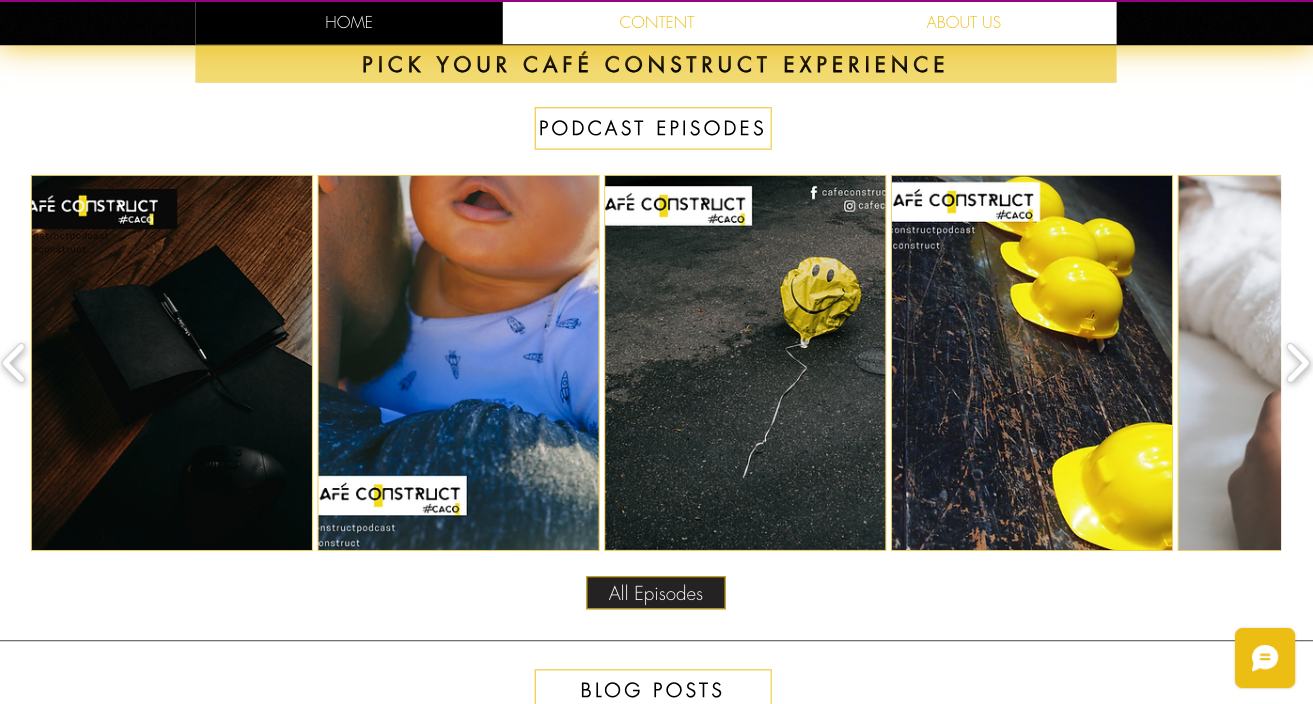 Source: cafeconstruct.com
Or, if you want to ensure that your video content aids the conversion-boosting efforts on your landing pages, consider utilizing it similarly to Bay Alarm Medical's Medical Alert Systems page. This brand uses video to give web visitors an in-depth glimpse into how its (somewhat complex) solution works, ensuring that prospects who aren't tech-savvy still get sufficient info to comprehend how the system works and what benefits it offers in real-life situations.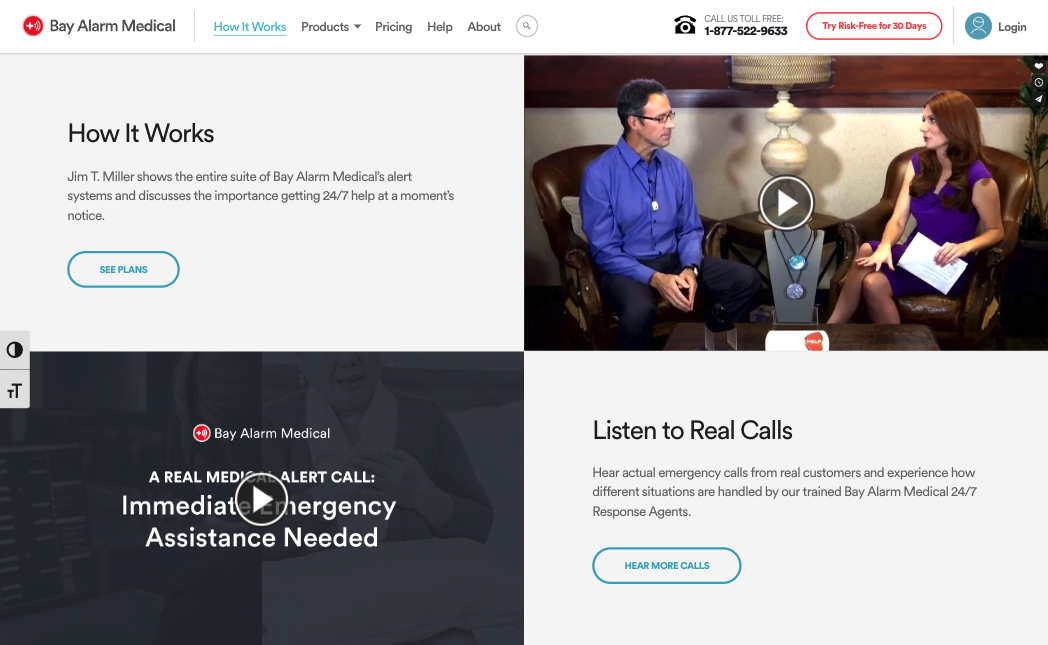 Source: bayalarmmedical.com
Interactive Content
Investing in content that encourages people to interact with your brand is one of the most effective ways to get the most out of your marketing strategy. Tools, tables, and calculators can become valuable resources for your audience. These resources will not only improve their lives but also cement your brand's role in helping them solve their pain points.
So, if you want to win with content marketing in 2023 and beyond, create interactive tools your future buyers will want to use in their day-to-day lives.
By developing these online apps — like the MarketBeat Biggest Stock Gainers interactive table — you can ensure that your audience returns to your site time and again. Furthermore, you can guarantee that a mini-product of your making becomes irreplaceable in their workflows. And, you can encourage web visitors to slowly start associating your business with solutions that deliver genuine value.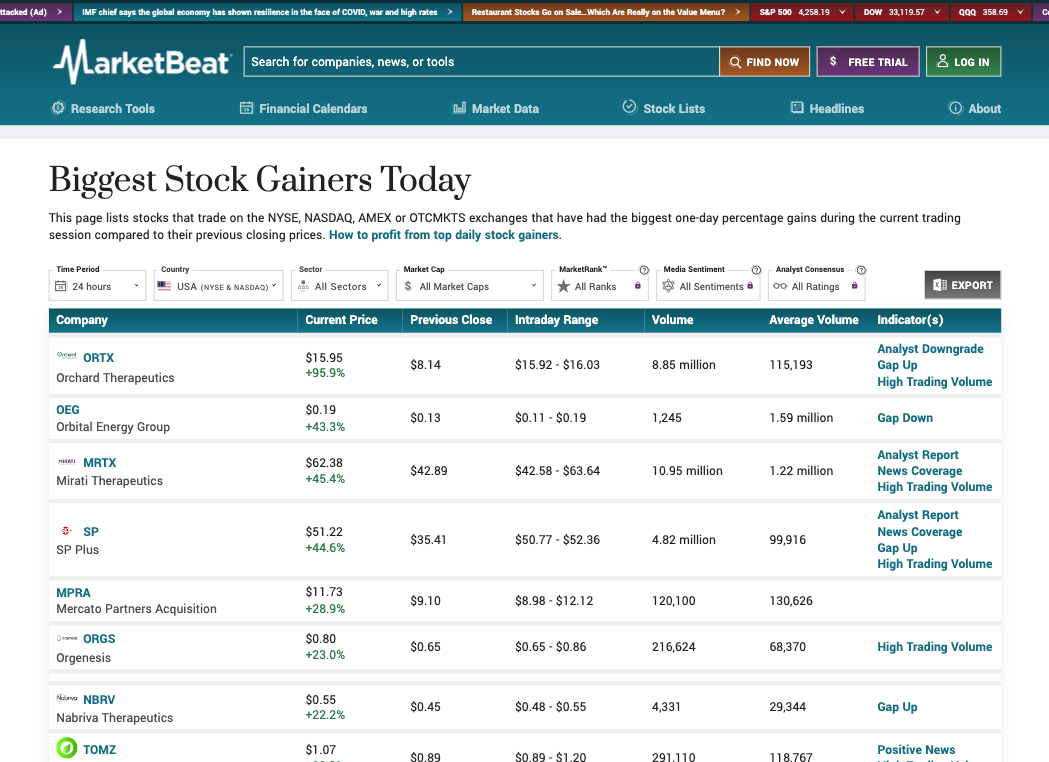 Source: marketbeat.com
If you decide to invest in interactive content, you have to understand that it might not always work to shorten the buyer's journey or even encourage conversions.
However, this is an obstacle you can easily overcome by putting these tools behind a gate — like Moz did on the Link Explorer tool page. This will allow you to present your audience with the information to seek as well as to capture new leads you can then nurture into buyers.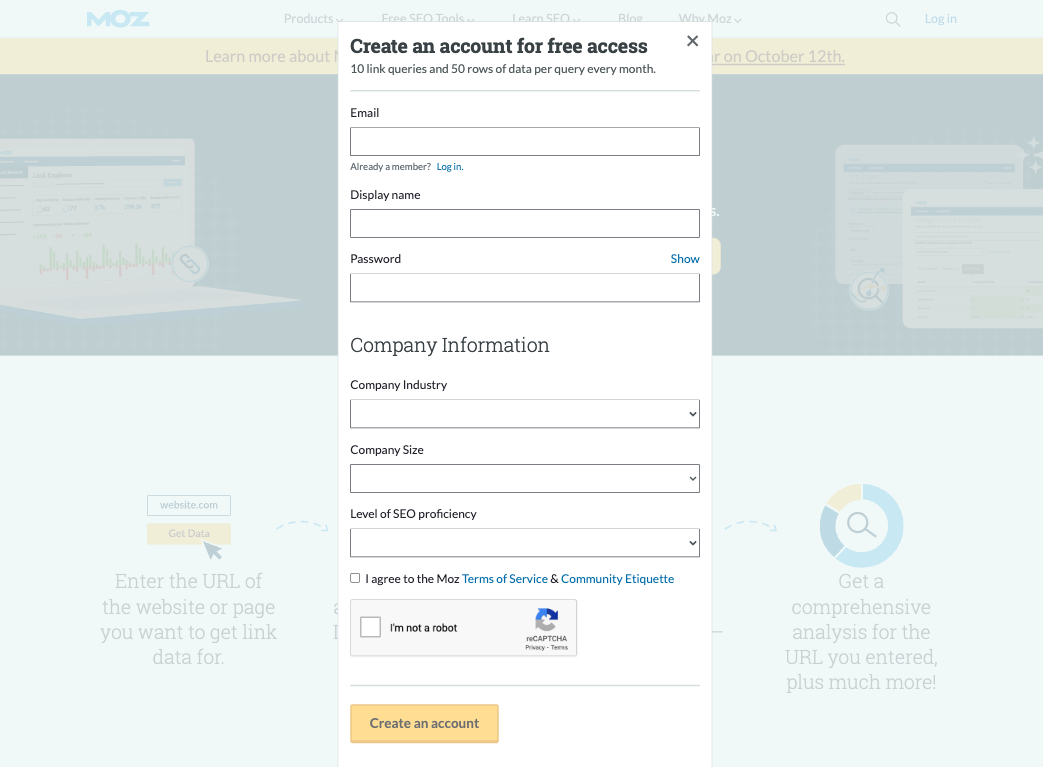 Source: moz.com
Evaluation and Conversion-Stage Content
Most marketers see content marketing as a way to build brand awareness. But the truth is, some content can also play a role in the lower stages of the buyer's journey, especially in helping web visitors make better purchase decisions, helping them figure out their precise product requirements, or allowing them to get more out of their past purchases.
So, if you want to take your marketing strategy to the next level and employ it to improve your customers' overall experience, consider investing in evaluation and conversion-stage tools to support your audience in the bottom phases of the sales funnel.
One excellent example of such content comes from SomniFix. On its homepage, the brand includes a SomniFix vs Other Sleep Devices section. This piece of visual content makes it super-easy for web visitors to understand the difference between the various sleep devices available on the market, helping them make better purchasing decisions they won't regret in the future.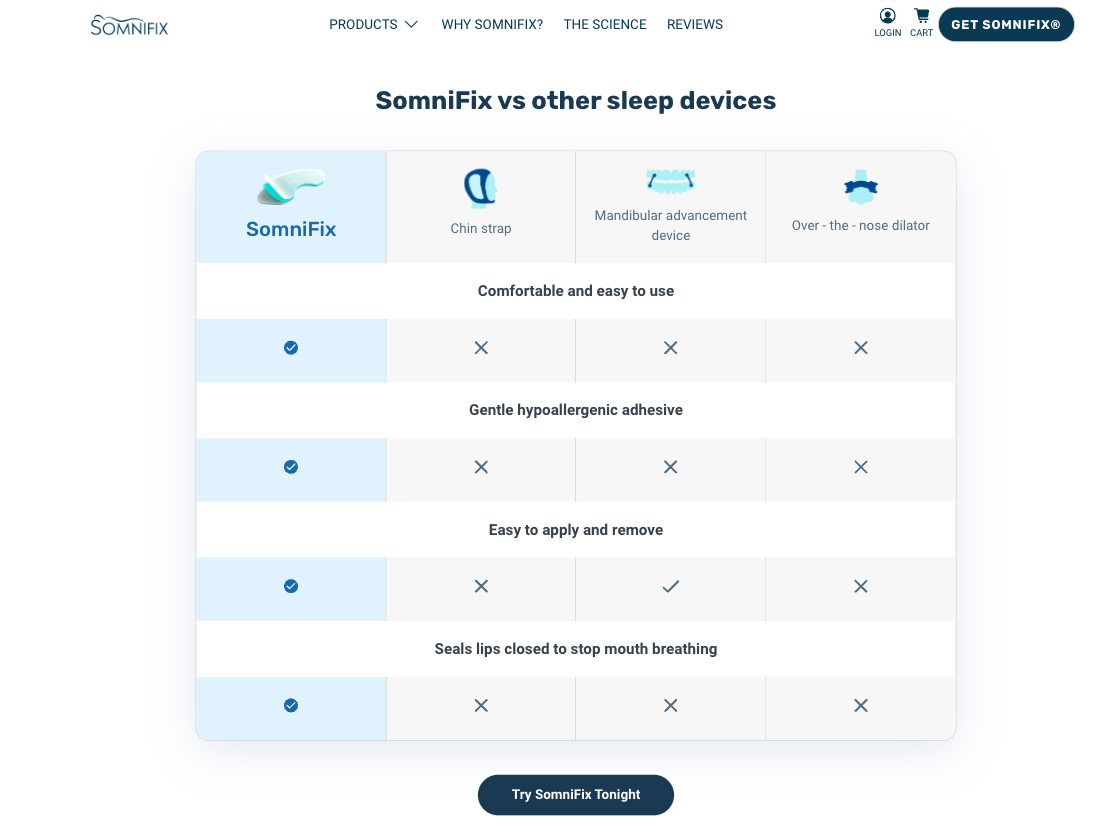 Source: somnifix.com
You can elevate this format with interactive features — like No7 Beauty did with its Foundation Quiz.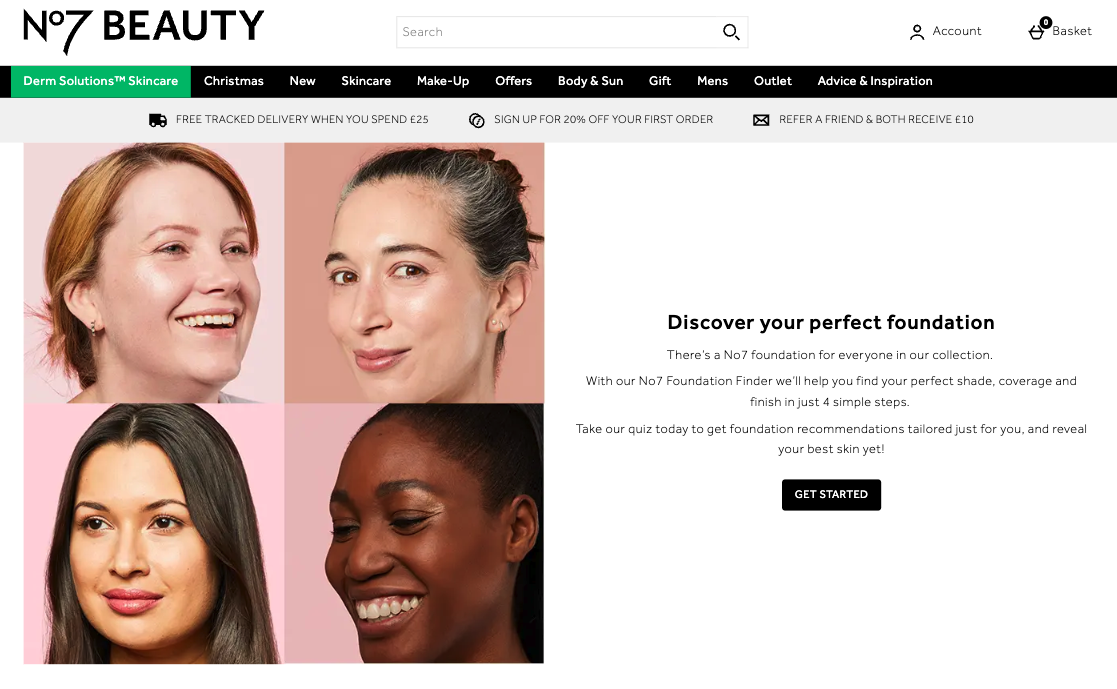 Source: no7beauty.co.uk
Influencer Marketing & Collaborative Posts
Collaborating with influencers is a great way to ensure better reach for your content production and distribution efforts. However, despite its many benefits, influencer marketing doesn't always deliver the results brands need in 2023. 
According to survey results from April this year, 88% of consumers no longer trust influencers enough to purchase solely based on their advice. 
Yet knowing that buyers still make purchase decisions based on the recommendations of trustworthy brand ambassadors — Edelman's research suggests these could be scientists, brand experts, and peers — it is now more essential than ever for businesses to work with the right collaborators.
One solution would be to employ various formats of UGC. As it's versatile enough to be used on landing pages, product pages, and social media feeds, user-submitted content holds a lot of potential for helping your brand harness the power of social proof.
However, if sourcing UGC isn't something you can easily do, you can still make collaborative posts work for your brand. 
For instance, by finding the right authors to write for your blog, you can effectively diversify your content marketing efforts, boost trust by working with well-regarded industry experts, and maximize your content output, which is guaranteed to result in better brand awareness.
Social Responsibility Content
Lastly, don't forget that consumers want to see brands talking about values.
According to research, 78% of US consumers care about leading a sustainable lifestyle. And they show this with how they spend. In a 2023 joint study by McKinsey and NielsenIQ, researchers found that products making ESG claims saw significantly higher growth rates. 
With this in mind, it might be a good idea to use your content marketing efforts in a way that will call your audience's attention to the social, environmental, and governance issues your brand cares about.
Social responsibility content — like the Chandarana Foodplus Instagram post below — is a wonderful opportunity to create a deeper connection between your brand and your audience. And, seeing that it's likely to result in your audience wanting to do more business with your brand, it's a format you should consider employing in your marketing efforts.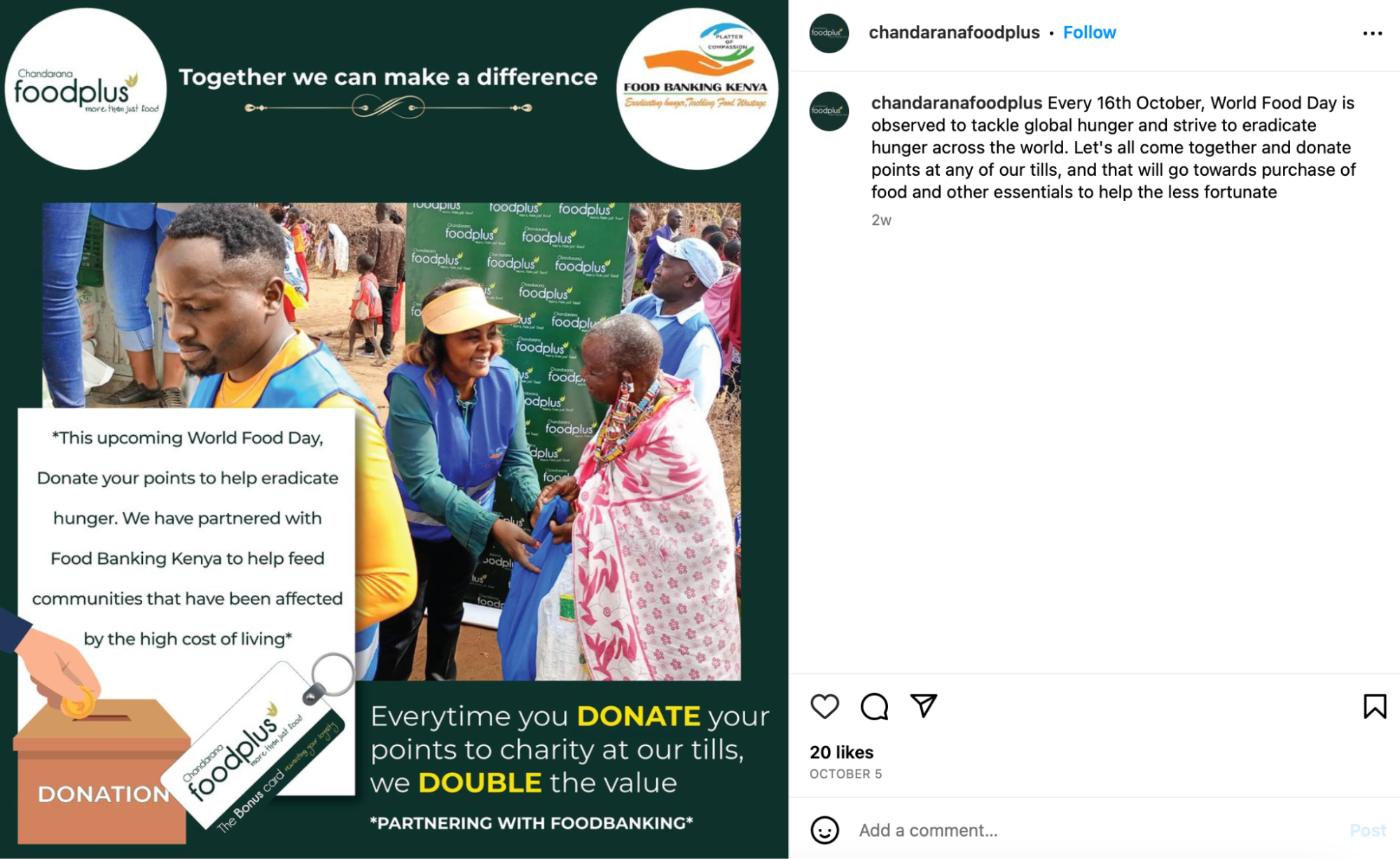 Source: instagram.com
Final Thoughts
Elevating your marketing strategy with new formats doesn't have to be challenging or pricey. All it requires is for you to keep an open mind and be willing to experiment with new types of content. 
You'll find that some of these formats will be super successful at grabbing and retaining the attention of your audience. Others, however, won't deliver as good of an ROI. 
Nevertheless, make sure that you always keep your eye out for the latest content trends and be willing to give them a go. No, you do not have to keep investing in formats that don't deliver results for your business. But make sure you've tried to make it work so you don't waste any new opportunities to capture and wow your future customers.